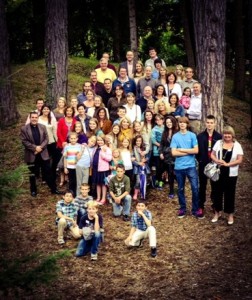 Each year Clermont-Ferrand sees the arrival of a number of expat families and individuals. You may be an employee of the Michelin Tire Company "expatted" to France for a few years. You might be coming to work for some other commercial concern in our region. Perhaps you are a visiting scholar or student at one of Clermont's Universities or Business Schools. You could be a person or family uprooted from your home country, maybe from Africa or Asia, and looking for a new spiritual home or a British family having moved here to continental Europe for work or retirement. One of the benefits of living in a town which is not a major tourist or retirement centre is that we attract capable, creative and very productive people into our midst. It is one of our blessings here at Christ Church.
The reality of leaving behind your family home and changing your country of residence can be challenging at first. You find that you are living in a new place where much of life is conducted in French and where you are surrounded by a high degree of ethnic and even religious diversity. Our parish church does not hope to insulate its membership from change and new experiences. Life in France has simply too much to offer to ever want to do that. We do, however, help to provide a bridge to make your time here fruitful.
We have a predominantly English-language church service every Sunday at 10:30 AM at the Royat Chapel (5:30 PM in July and August).
Families are nurtured and supported by other church members.
Regular opportunities for religious education and community building are provided for children and teenagers.
Seasonal Bible studies and topical studies for adults take place midweek over a meal of soup and cheese on a regular basis in Lent, Advent and during Ordinary Time.
Lasting informal relationships are developed between our members which endure, in many cases, long after people have returned home.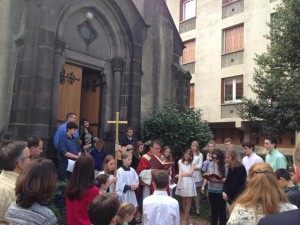 This does not happen by itself. No parish church is able to provide the rich ministry which we have seen take place at Christ Church over the years without the clear desire on the part of its people to "be the Church" in this corner of the Auvergne. It takes guts and determination. Christ Church is an opportunity for you and your family to take your place at the centre of a vibrant community. We look forward to seeing what God has in store for you in this place.
The membership of Christ Church is varied in terms of people's denominational background and prior experience. Baptized members of all Christian denominations are welcome to receive Communion at our weekly services and to take a full part in all of our activities and deliberations. Here you belong!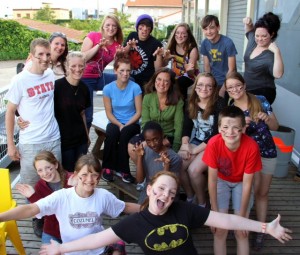 If you are moving to Clermont over the summer why not drop us a line ahead of time so we know you're coming? If you're here already then feel free to just show up – on your own or with the family. Introduce yourself. Together, we'll take it from there.
Our Mission Statement
"Christ Church, Clermont-Ferrand is an English-speaking congregation that seeks to reach out to our community to spread the Good News of Christ Jesus throughout Auvergne. Our fellowship professes faith in Christ through worship, fellowship, education, stewardship and outreach. We welcome people of all backgrounds, nationalities and denominations at any stage of their journey of faith. Christ Church is a parish of the Convocation of Episcopal Churches in Europe."
In terms of some of the practical considerations of living and working in Clermont-Ferrand may we recommend that you take a look at the document below which has proved helpful to many people moving to Clermont for the first time.