The Restos du Coeur National Collection – March 9th-10th, 2018
This year's local collection at the community supermarket had both young and elderly members of the congregation participate. The event was a success!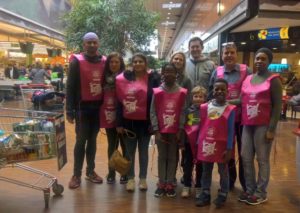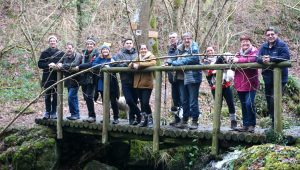 The Boxing Day Walk – December 26th, 2017
Our parish's "first annual" Boxing Day Walk took place on the trails near Chatel-Guyon just north of Clermont-Ferrand. It was a fairly easy grade and we managed to burn off the previous day's turkey before heading back to the Rectory for a second helping of various participants' leftovers. The three dogs, previously unknown to each other, got along well. It was a sufficiently invigorating occasion that that we decided we needed to plan for a Lenten version of the same sort of trek.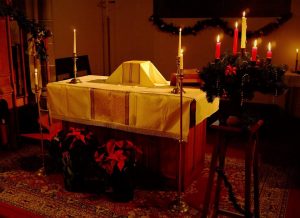 Christmas services 2017
The chapel looked particularly nice this year with the addition of a few poinsettias and well placed candles. Our congregations for the Nine Lessons and Carols and our Christmas Eve service were healthy in spite of holiday absences on the part of a number of our parishioners and we made some good connections with new people in the area. Particular thanks are due to Julia for whipping our impromptu choir into shape.
Community Thanksgiving Dinner 2016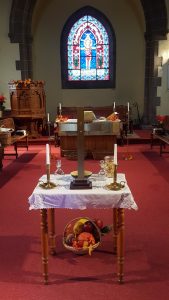 On Sunday, November 20, 2016 our congregation and community friends gathered at the Massillon School cafeteria to enjoy our traditional annual Thanksgiving/Harvest turkey dinner. It was a happy and festive event and our young "Lunch Bunch" kids had the tables beautifully adorned with their hand-made Thanksgiving decorations.
The school chef and his team prepared our delicious American style feast with a few French twists. Homemade desserts were in abundance. Father Rob gave the blessing, thanking God for all the good things we enjoy, especially our fellowship together. Two representatives from L'Église protestante unie de France also joined us. The Christ Church Youth Group sold their beautiful hand-made wooden reindeer and tea cup bird feeders. Proceeds from their efforts will be used for a yet to be determined mission project.
There are many people to thank for this wonderful event, especially Vestry Fellowship member Shannon Holley. We look forward to the year ahead as Christ Church Clermont-Ferrand plans its activities and service for expats and locals alike. A very Happy Thanksgiving to all!
---
Autumn cultural events at Christ Church Chapel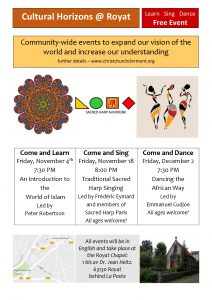 An Introduction to the World of Islam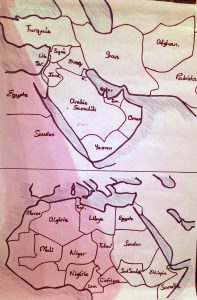 On Friday, November 4, 2016 we enjoyed learning about the roots of Islam and how it has evolved and changed through the centuries. We also discovered how the different Islamic groups developed and why there is tension between them, both in the past and in the modern world. In today's world we see fighting and power struggles between these groups. This talk by Peter Robertson helped us to better understand the politics and ideologies that are involved in these struggles. Peter's familiarity with this subject is evident in his bio below.
Peter Robertson is a long-time member of Christ Church. He spent much of his childhood in Cairo and has travelled and worked extensively in the Muslim world. As a young man he studied both Arabic and Persian and has led courses in the past for service clubs and for our parish church designed to familiarize people with a religious tradition which is much in the news.
Traditional Sacred Harp Singing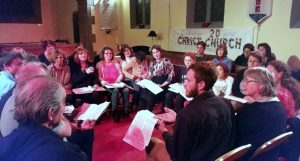 On Friday, November 18, 2016 we gathered at the chapel to learn about Sacred Harp singing and to participate with the members of the local Sacred Harp group and the Paris group. Everyone enjoyed this style of singing and it didn't take long to lift the rafters with song! Everyone was invited to join the local group on a regular basis. Some members of our congregation already attend. Some information on Sacred Harp singing and the Auvergne group is below.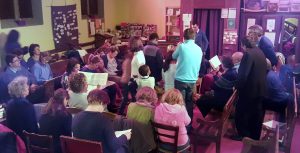 Frederick Eymard, from Issoire, is the organizer of the Sacred Harp group in the Auvergne. This choral tradition grew up in rural America, primarily in Appalachia and has had a recent resurgence of popularity – especially in Europe. Sacred Harp singings take place regularly in major European cities. Four members of Sacred Harp Paris travelled down to Clermont and members of our church and the larger Clermont community joined in this evening to learn how to sing in the Sacred Harp style and most importantly to fill the chapel with song.
Dancing the African Way
On Friday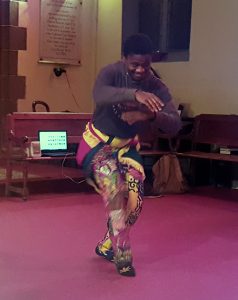 , December 2, 2016 we had a wonderful opportunity to learn about traditional African dancing and singing. Our own Emmanuel Cudjoe, a young man from Ghana, taught us a song and a dance. A small but enthusiastic group followed his directions and managed to dance to beautiful African music. Emmanuel then performed a dance for us and explained the meaning of the various dance movements.
The history of the the African people is preserved in their music and dance. Emmanuel is studying African Dance Anthropology in the university in Clermont-Ferrand. His studies in this Masters Program have taken him to Hungary, Norway, and the United States.
Thank you, Emmanuel, for this rare opportunity to experience close up this beautiful African tradition.